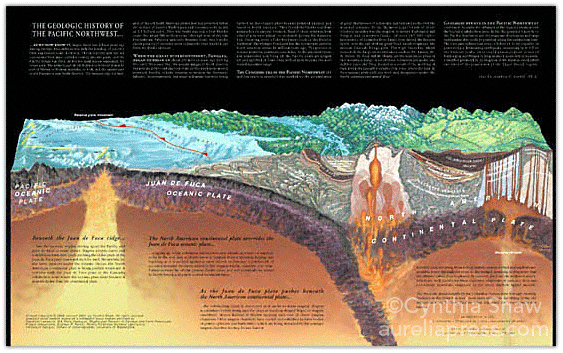 Geologic History of the Pacific NW GeoMap - Side 1
Originally created as a museum exhibit for a general audience, many users - including geology professors - have called this map the best visual display of Pacific NW geology that currently exists. Used widely in classrooms (about 5th grade through college), it is also a popular museum/nature center gift shop/bookstore item.
The GeoMap presents a three-dimensional slice through Washington State, picking up the major points of geologic interest. Side One relates familiar landforms to their underlying tectonic and volcanic processes, while Side Two presents a closer view of more recent topside events that have shaped the landscape.
At 15"x24", the map size is ideal for use at home on the table, or in the classroom by teams of two students. Many educators prefer two posters for display, in order to show both sides at once. Printed on durable poster stock. Lamination is suggested for heavy use. (Scroll down to see Side Two.)
You may also want to check out the new Pacific NW GeoMap CD-ROM for projectable GeoMap images!
Geologic History of the Pacific Northwest GeoMap
Illustrated by Cynthia Shaw
Text by Stephen P. Reidel, Ph.D.
ISBN:0-9670595-3-4
Two sides; 15x24"
Pricing: $9.95 each for one; $8.45 each for two; $7.45 each for 3-15; $5.95 each for 16 or more
To order, select your desired quantity range below; add to cart and enter the actual quantity you want>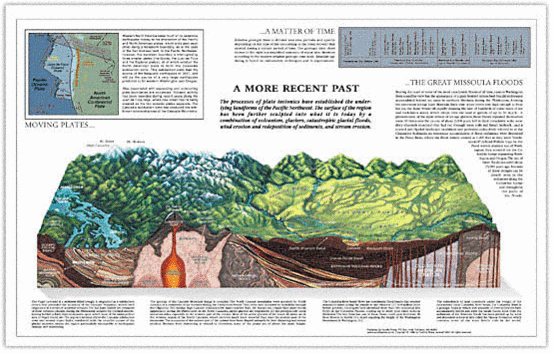 Geologic History of the Pacific NW GeoMap - Side 2